We are proud to offer some of the most talked-about bars at our hotels. These are places to discover new tastes, as well as enjoy old favourites. Our experienced mixologists serve finely-crafted cocktails, vintage wines and rare spirits in surroundings that tempt you to linger.
Claridge's
Whether it's a glass of vintage champagne in the David Collins designed Claridge's Bar, an elegant cocktail in the 1930s surrounds of The Fumoir, or an innovative take on an original in The Painter's Room, the bars at Claridge's are three of Mayfair's most stylish haunts.
Find out more
The Connaught
Award-winning cocktails and expert mixologists are the backbone of the legendary Connaught Bar. Whilst the atmospheric and welcoming Coburg Bar is a much-loved institution for guests and local alike and our newest addition, the Red Room, is a cocooning hideaway showcasing artworks never exhibited before.
Find out more
The Berkeley
A striking Lutyens Blue interior, innovative cocktails and an electric atmosphere, the Blue Bar is a true one-off. Alternatively, The Berkeley Bar & Terrace has an extensive drinks list where every item has a fascinating tale to tell.
Find out more
The Maybourne Beverly Hills
The discovery of new tastes in elegant surroundings await you in Beverly Hills. Explore the finely-crafted cocktails from the mixologists in The Maybourne Bar or uncover a rare whisky at The Cigar and Whiskey Bar.
Find out more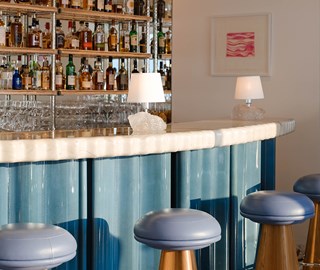 The Maybourne Riviera
Overlooking the Mediterranean Sea from the terrace, the Bar Ceto offers cocktails with iodine flavours and marine inspirations and offers a unique moment out of time. Alternatively, head to Le 300 for inventive cocktails boasting local ingredients and enjoy the view from the floor-to-ceiling windows.
Find out more