The rooms and suites in our stunning hotels are beautifully designed and individually furnished, offering state-of-the-art entertainment and luxurious amenities. Above all you are not just a guest – you're a resident coming home.
Rooms & suites at Claridge's
Claridge's luxurious rooms and suites pair glamorous design with supreme comfort.
Claridge's Suites by David Linley have won acclaim as showcases of contemporary British design, respecting the art deco and Victorian architectural heritage of the hotel.
Palatial in style, Empress Eugenie Suite bears all the hallmarks of Claridge's royal heritage. Interweaving art deco design with French flair, it pays homage to Empress Eugenie of France who entertained Queen Victoria in her 'winter quarters' at Claridge's.
The stunning Grand Piano Suite showcases the bold style of legendary fashion designer Diane von Furstenberg.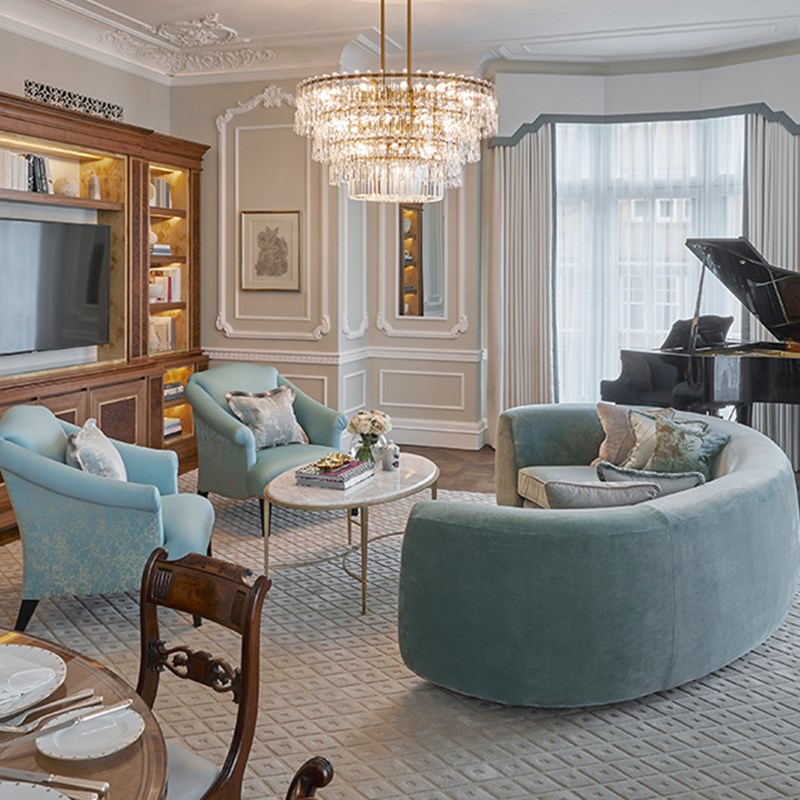 Rooms & suites at The Connaught
Classic design and contemporary style blend effortlessly across all our rooms and suites, providing 21st-century luxury in grand and opulent surroundings.
World-renowned British designer Guy Oliver maintained period grandeur whilst providing contemporary comfort in a series of unique suites at The Connaught.
Designed by David Collins, The Apartment at The Connaught is a residential-style rooftop suite in the style of an art collector's home.
The split-level Library Suite is a book lover's dream and the contemporary space is filled with natural light from the feature skylight ceiling
The impressive Terrace Suite has the largest terrace in Mayfair, beautifully landscaped by two-time Chelsea gold medallist Tom Stuart-Smith.
The Prince's Lodge, featuring unique wooden furniture hand-carved by skilled Afghan artisans, celebrates Islamic design and a golden age of exploration.
Rooms & suites at The Berkeley
The Berkeley has always encouraged innovation and delighted in the unexpected. Its rooms and suites showcase the best of creative, contemporary design in a variety of styles, using the finest fabrics and detailed craftsmanship. Renowned for their spaciousness and the ability to connect and create whole apartments, many Berkeley rooms have private garden terraces or balconies with expansive views of Knightsbridge and Belgravia that leave you in doubt as to where in the world you are.
Robert Angell designed the Balcony King Rooms which have the added luxury of a private balcony with views of the London skyline and their very own Berkeley birdhouses. He also created the clean-lined, beautifully-crafted Chelsea Suites.
Game-changing suites by John Heah, with seamlessly connected, light and bright spaces and minimalist design focused around hardwood floors and bespoke furniture, were unveiled in 2016-17 – these include the Apartment, the Gallery and a beautiful collection of Grand Terrace and Terrace Junior Suites overlooking St Paul's Church.
Designed by Helen Green and Robert Angell, the Berkeley Suites display a subtle, understated style, finished to perfection. Helen Green Design also created the two-bedroom Crescent Suite, displaying tactile textures and finishes and a palette of warm and welcoming neutral colours.
World-renowned interiors architect André Fu unveiled the Grand Pavilion and Crescent Pavilion Penthouses in 2018 – stunning glass windows onto London, with wraparound roof gardens and huge spaces for living, working and entertaining, all furnished with bespoke one-off pieces and an assured hand.